Welcome to 2021! We were looking forward to another fun filled, musical season with many talented musicians and artists but unfortunately Covid 19 has put a damper on our festivities. All our musical gatherings and art shows planned for the summer of 2021 are pending based on developments surrounding the coronavirus. Every artist listed below is committed to 2021 so just close your eyes and dream of happier times when gatherings and toe tapping are again part of the norm.

Keep well. Stay safe.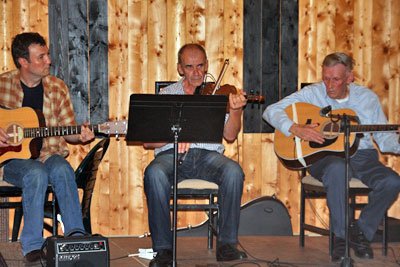 We are so proud of the local talent here in Cape Breton and are fortunate to have a lovely music facility in which to host the likes of the Barra MacNeils, the Celtic Rant, Peter Katz, the Red Dirt Skinners, and many others. The return of the Barra MacNeils to the Markland for their 9th year is a true testament to their popularity and their love for the Markland venue.
Deron Donovan will be joining us in the main lodge twice a week. A wonderful musician with an intimate style, he adds lots of joviality to the evening.
CAPE BRETON MUSICIANS - 2021
DERON DONOVAN - Thursday and Friday nights, starting July 8.
Markland Lobby, 7-9pm.
Please join us for a Cape Breton evening celebrating local talent. You're sure to be entertained in the comforts of the Markland lobby with laughs, stories and the vibrant music of Cape Breton. A Glen Breton whiskey to top off the evening ... the spirit of Cape Breton keeps giving.
For more information, please call the Markland at (902) 383-2246.
THE WEEKLY FESTIVE LOBSTER FEAST - 2021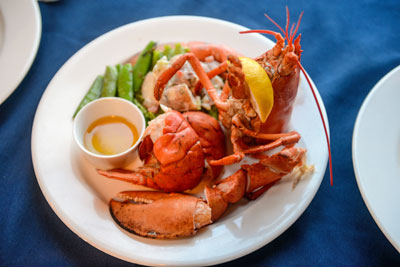 Every Thursday starting mid May to July 15, 5:30pm.
In Cape Breton, the lobster season generally kicks off in mid-May and we are at the Markland will be ready to celebrate with a true Cape Breton tradition, the lobster boil. Come and enjoy lobster at its very best. Learn from the locals about the lobsters, their biology and the fishing industry. Participate in the process of cooking and cracking. And enjoy a dinner complete with salads, homemade bread, Adrienne's famous pie, and a glass of wine or a local draught. A special evening on the most northern tip of Cape Breton Island.
Call the Markland to reserve at (902) 383-2246.
ART SHOWS at THE MARKLAND - 2021
CELESTE FRIESEN - Spring into Summer!
Dates to be determined
Our first exhibit this year is showcasing the works of a local Cape Breton artists, Celeste Friesen.
Celeste is a local favourite whose art has graced the Markland walls for many years. This year she presents a series of acrylic canvases expressing the sea, sky and beach through minimal colours, simplified shapes, and brush strokes. She truly captures the spirit, energy and landscape of Cape Breton in an unique and magical way.
Feel free to drop in at the Markland anytime to view and enjoy their work.
LEGARE W. CUYLER
Dates to be determined
This year the Markland looks forward to showcasing the work of Legaré Cuyler, a longtime summer resident of our community. Legaré has a degree in Architecture from Princeton University, has taught in high schools, and has designed, built and renovated houses (including cabinet work and furnishings) for the last 40 years.
His hand built chairs are legendary. They've been auctioned off at the Farmers' Market in Cape North and they rest on many Cape Breton porches providing remarkable comfort to all. Legaré's work combines a simple usefulness with the inherent delight of found and reclaimed materials.
We look forward to having his unique furniture on display in both the Markland lobby and dining room. Chairs, tables, sofas, benches and more … we look forward to having you drop by to "sit" awhile. You won't want to leave.
EVE STOCKTON, CLAUDIA GAHLINGER & ADRIENNE FORE - 2021 VISIONS
Dates to be determined
It is with great joy that we welcome back three incredibly talented local artists who have masterminded a unique exhibit showcasing the landscape and texture of this great Island. Each artists captures the beauty, the colours, and the forces of nature that resonate with Cape Bretoners and visitors alike. Whether it's an intricate hooked rug, a watercolour painting or a mesmerizing woodcut, these creative works are sure to inspire. Come and enjoy Eve's, Claudia's and Adrienne's VISIONS of 2021.
THE BARRA MacNEILS IN CONCERT - BACK for a 9th YEAR! - 2021
Dates to be determined.
They're coming back! This is an annual Celtic special you won't want to miss.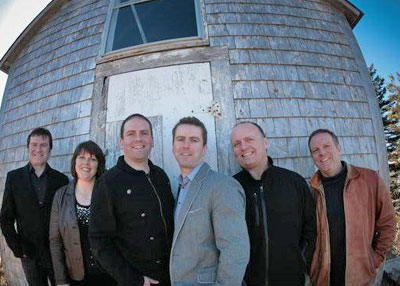 The Markland is thrilled to be welcoming back for the 9th year the well-known Canadian musical group, the Barra MacNeil family. We love having the Barra MacNeils. Their highly entertaining and energetic yet intimate show sells out every year. It truly is a Maritime highlight! So come on out ... the evening is sure to entertain.
The six MacNeil siblings are widely regarded as one of the greatest live concert acts in the Celtic world. Hailing from Sydney Mines, Cape Breton Island, Nova Scotia, the family group is deeply rooted in Celtic music, culture, dance, language and history. Their numerous critically acclaimed recordings have included their own original songs as well as tried and true standards, both instrumental and vocal. Very exciting indeed for all of us up here on the northern tip of Cape Breton!
Once dates have been determined, please call the Markland at (902) 383-2246 to get your tickets ($30/person). Advance Ticket Sales only.