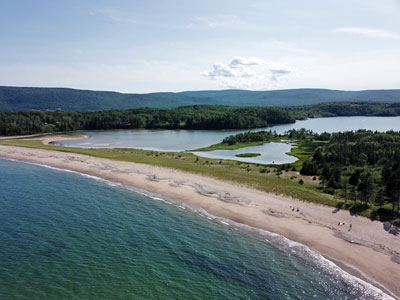 The Markland is located on the edge of the Atlantic ocean on the most northern tip of Cape Breton Island with a beach and sandy shore that is simply breathtaking. Unspoiled and pristine, nature comes alive here where the mountains touch the sea.
The Markland offers self contained cottages which are ideal for families on an east coast adventure, cyclists relaxing after a hard ride on the Cabot Trail, or couples finding solitude on the tip of the island.
Most of the cottages feature ocean views and all of them are a short stroll to our secluded sandy beach. Whether it's a morning walk, an ocean swim in the afternoon, or a marshmallow roast at night - there is nothing to compare to the solitude you'll experience on this pristine Atlantic coastline. The Markland pool is great for family fun and offers a refreshing option for those who find an ocean swim a little intimidating.
Our enthusiastic staff are ready to accommodate your needs and help make your stay as memorable as possible. Whether it be a guide to local activities, babysitting, or a musical evening, we are here to give you the best of Cape Breton!
"
Everything about the Markland is wonderful. The stunning location, beautiful beach, fabulous food, friendly helpful staff, excellent service, and very comfortable well-equipped cottages. The breakfast buffet is varied and delicious, and all the food is freshly cooked with an emphasis on local products. The halibut, crab cakes and scallops were all top evening choices, but everything on offer was very well done and top quality. This is a very special place to stay while touring the Cabot Trail or other Cape Breton attractions. Very highly recommended.
"
The Markland deserves all the high praise. The accommodation was very comfortable, quiet and close to the ocean --within a short walk, with views of same. The dinner was well presented and very tasty. Breakfast was more than 5 stars with fresh pastries, great coffee (not watery!), etc. It is hard to find really comfortable accommodation in the area, but this is the place to go!
For more reviews, please visit us on TripAdvisor.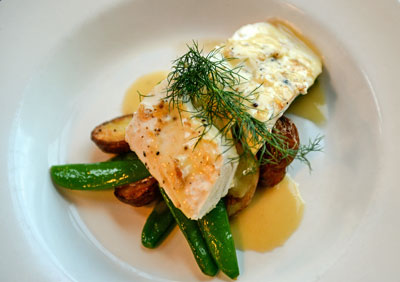 Our talented chefs have revitalized The Markland restaurant and have made a point of celebrating local cuisine with wild halibut, lobster, snow Crab, seafood chowder, scallops and oysters along with choice beef, chicken and pasta. Our restaurant offers a warm welcoming environment for a delicious, and relaxing dining experience. We also serve a complimentary continental breakfast with house baked treats, and gluten free options. Our wines are selected from an outstanding sommelier in Halifax and we are proud of the choice offered to our guests.
Please refer to the
many positive reviews
received by our restaurant last season.